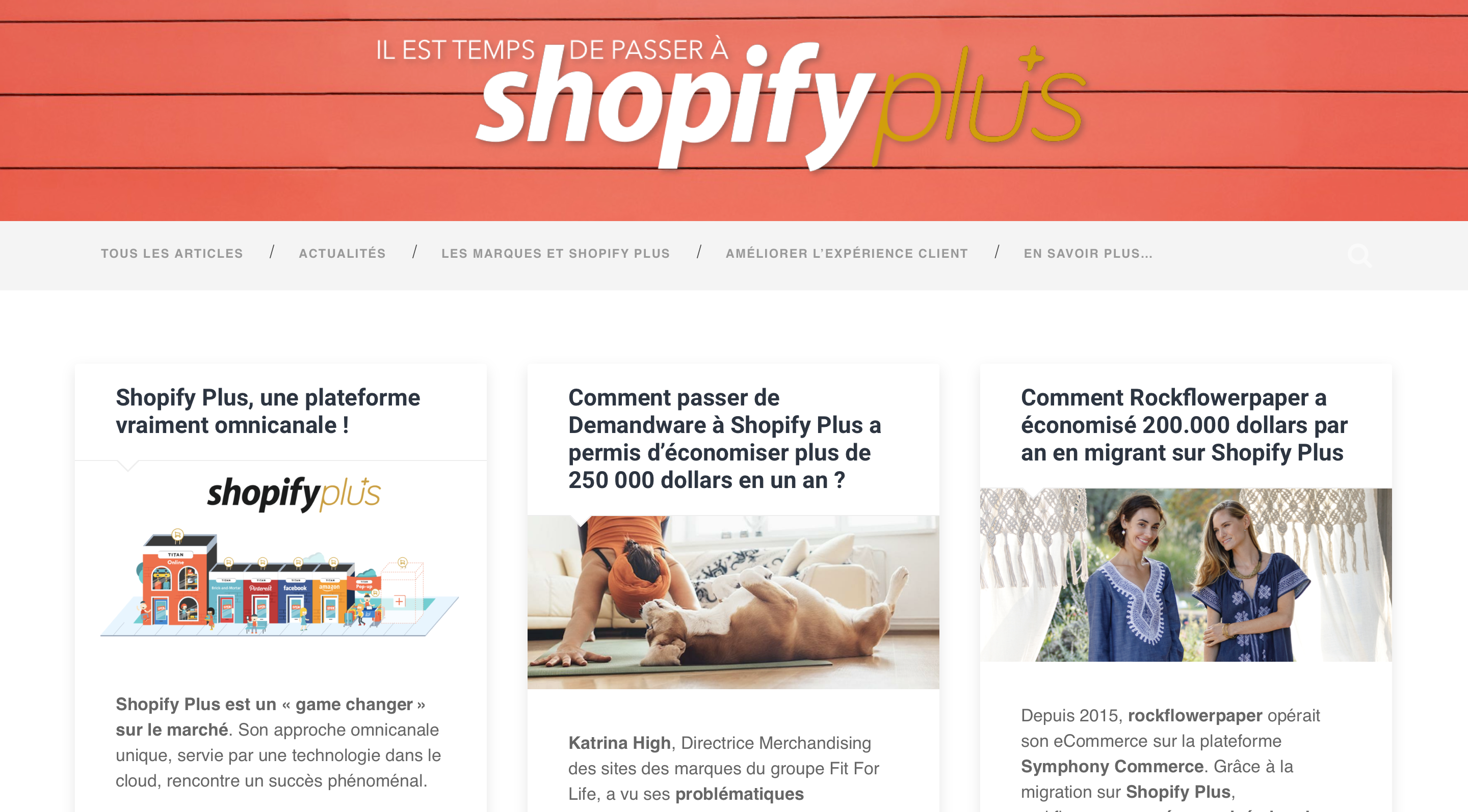 October 10th, 2018
Brand Online, official Shopify Plus Partner, officially unveils today the blog ChoisirShopifyPlus.fr.
The blog's name, "It's time to switch to Shopify Plus" ("Il est temps de passer à Shopify Plus" in French), is also the name of the business breakfasts organized by Brand Online in Paris, the last one taking place on Sept 27th. With the blog, Brand Online teams are offering content in French dedicated to Shopify Plus platform.
Shopify Plus is a real game changer in the eCommerce platforms landscape. And thanks to its partnership with Shopify Plus, Brand Online builds efficient sites which develop Luxury, Fashion and Beauty brands online business while allowing them to keep full control over their image..
With ChoisirShopifyPlus.fr blog, Brand Online is reinforcing its partnership with the Canadian company, by investing in content production that can be useful to any Shopify Plus client.
Including French-translated abstracts of the official Shopify Plus blog, exclusive contents produced by Brand Online, and clients business cases, the blog ChoisirShopifyPlus.fr aims at providing information on Shopify Plus development and functional scope.
"We are working with Shopify and Shopify Plus for 4 years now, and we are clearly ahead of the market in France" says Christophe Davy, Business Partner of Brand Online. "We are proud to have the Shopify Plus Partner label, and with ChoisirShopifyPlus.fr blog we wish to actively contribute to the growth of the solution in France."
ABOUT BRAND ONLINE
Founded in 2008, Brand Online is part of Venise Group. An eCommerce agency dedicated to Luxury, Fashion and Beauty brands, Brand Online offers a mixed European and American culture to its clients through its operational presence in Paris and New York.
Brand Online has built a comprehensive, customized & modular business to consumer solution especially designed to meet the needs of premium brands worldwide. Brand Online teams are a mix of talented people that focus on Developing Strategy, Building Platforms and Driving Business.
Brand Online is an official Shopify Plus Partner, as well as a Magento Expert.
Brand Online clients include prestigious brands such as Clergerie, Serge Lutens, Kérastase, Heimstone, La Bagagerie, Helena Rubinstein, Rivieras, My Blend, Christophe Robin, John Malkovich…