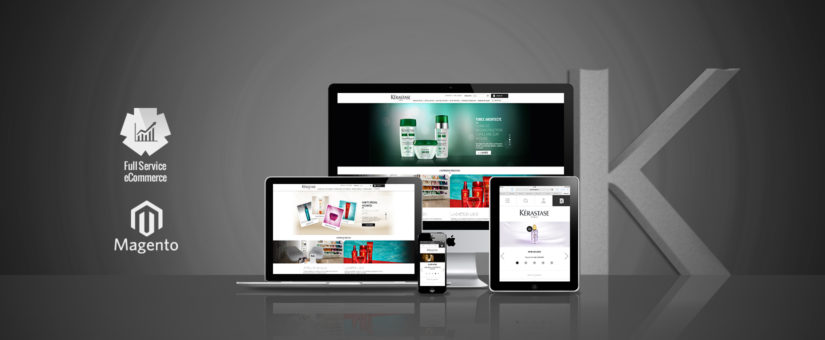 June 24th, 2014
Kérastase, a L'Oréal group brand providing inspirational high end hair care, has been building its European eCommerce since 2013 with the operational support and dedication of Brand Online Commerce teams.
France was the first European country to open an online store. Designed by Nurun agency, and developed on Magento by Brand Online Commerce technical team, the eCommerce site kerastase.fr will soon celebrate its first year of existence.
As part of a Full Service eCommerce contract, Brand Online Commerce provides all the services needed to successfully power the online distribution channel: eCommerce Technology, eMarketing, Customer Care, Fulfillment and Financial Services.
In addition to a PC and tablet version, a dedicated mobile site has been rolled out. Technically based on Magento Enterprise Edition, the platform has been fully interfaced with the brand IT systems, allowing a complete integration of the eCommerce business into the financial and accounting processes.
Two other European countries will open their Kérastase merchant sites by the end of 2014, built and mannaged by Brand Online Commerce.
About Brand Online Commerce
Brand Online Commerce, founded in 2008, is the eCommerce agency dedicated to Luxury, Fashion and Beauty brands.
Through its operational presence in Paris and New York, Brand Online Commerce offers a mixed European and American culture to its clients.
Brand Online Commerce has built a comprehensive, customized & modular business to consumer solution especially designed to meet the needs of premium brands worldwide. Brand Online Commerce teams are a mix of talented people that focus on developing online turnover through several complementary skills: eCommerce site creation and maintenance, eMarketing policy operational management, customer care, fulfillment and financial services.
Brand Online Commerce clients include prestigious brands such as Nars Cosmetics, Serge Lutens, Kerastase, Pernod Ricard, Helena Rubinstein, Nowness, Black Up, My Blend, Nuxe, Jean Paul Gaultier, Assouline.