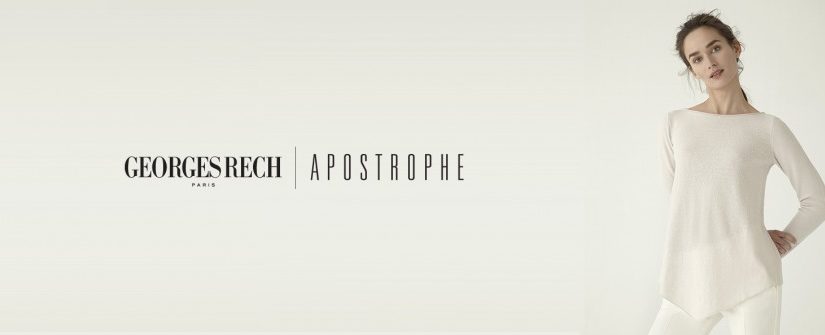 March 1st, 2016
For now several months, Apostrophe and Georges Rech, two emblematic high-end Fashion houses, have joined Brand Online Commerce clients portfolio.
Designer and founder of Apostrophe in 1968, Patrick Hazan manages together with his wife, Dominique, a ready-to-wear group that is also owner of the brand Georges Rech. Apostrophe and Georges Rech, two brands always in the move.
Working with those Fashion brands strengthens Brand Online Commerce presence in this industry and confirms its ability to drive high-end online flagship stores.
Apostrophe and Georges Rech have both selected the Full Service contract in order to boost their eCommerce revenue. And it's already successful: between January 2015 and January 2016, online sales have been increased by three.
"We can only thank Dominique and Patrick Hazan for their trust in our company. Over a short period of time, we have been able to significantly increase their eCommerce business", said Antoine d'Arifat, General Manager at Brand Online Commerce. "Thanks to Brand Online Commerce's best practices, our teams proactively challenged Apostrophe and Georges Rech management on various marketing and creative aspects. The mix went well, and next steps look amazing!"
ABOUT BRAND ONLINE COMMERCE
Brand Online Commerce, founded in 2008, is the eCommerce agency dedicated to Luxury, Fashion and Beauty brands. Through its operational presence in Paris and New York, Brand Online Commerce offers a mixed European and American culture to its clients.
Brand Online Commerce has built a comprehensive, customized & modular business to consumer solution especially designed to meet the needs of premium brands worldwide. Brand Online Commerce teams are a mix of talented people that focus on Driving Business, Building Platforms and Manage Operations (customer care, fulfillment and financial services).
Brand Online Commerce clients include prestigious brands such as Serge Lutens, Apostrophe, Kérastase, Banana Moon, Helena Rubinstein, My Blend, Assouline, Hédiard, Georges Rech,…